How to become a Reseller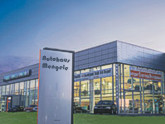 Have you recognized the variety of functions and the additional value of the FISCON hands free systems? Do you operate an online shop, a car dealership or a stationary car multimedia service company? Then FISCON Bluetooth hands free kits should definitely be part of your range. In addition to an unrivaled and technically outstanding product, we also offer you good dealer conditions.
Your advantages as a FISCON-Mobile sales partner:
| | |
| --- | --- |
| + | Attractive product with high demand |
| + | Customer-oriented guidance, e.g. on product issues, compatibility and installation |
| + | Competent service through extensive experience |
| + | Always up-to-date firmware versions |
| + | Forwarding of customer requests for local installation and distribution |
| + | Good terms and conditions for dealers |
†
The dealer price lists can be viewed online in the shop. To see your dealer conditions please register in our online shop.
After verification of your documents we will upgrade your account to a dealer account.
†
In order to register you as a sales partner, we need to ask you for a trade license as well as a short description of your sales concept. We will be happy to contact you to discuss the details of the delivery. And, of course, you will see your dealer prices and services online.
Please feel free to contact us via our hotline for distributors:
| | |
| --- | --- |
| Phone | +49 (0)911 / 80 19 18 20 |
| e-Mail | |
If you do not find the item you are looking for: Please give us a call or send us an e-mail.
Our service times are Mon - Fri from 8.00 a.m. - 5.00 p.m. and 7:30 p.m. bis 10:00 p.m. (irregular).
†
We would be pleased to hear from you!
†
Your Need4Street Automotive GmbH