Payment Options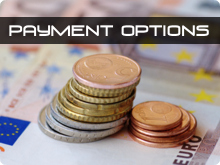 We offer you numerous options for payment which is safe and uncomplicated for you.
Your safety is very important to us. You will purchase from a "GmbH" based in Germany. Our company exists longer than 15 years.
We recommend the payment methhod of bank transfer or "Sofortüberweisung". In this cases your security is guaranteed by the payment service provider.
Prepayment via bank transfer
Transfer the invoice amount to our bank account. You will receive the account details including IBAN / BIC codes by email.
sofortüberweisung.de
Particularly fast online transfer with TÜV-certified data protection without registration. Please have your online banking data (PIN / TAN) ready.
Cash on delivey
Pay cash with the DHL delivery agent when you receive the shipment. Cash on delivery fee: 7.95 €. Minimum of order value € 50.
Cash
Cash and carry. No EC cards or credit cards.
Bill
Payment on account. Only for authorities, brand-linked car dealerships and dealer customers after the third order.
PayPal
Payment with PayPal by providing credit card or bank account details to PayPal.
Installment purchase by easyCredit
Pay easily in installments. Early repayments and breaks in payment are possible with no extra charge.